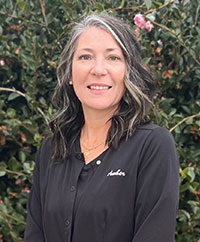 Amber
Front Office Manager
Hello and welcome! My name is Amber and I oversee all aspects of our front office. In addition to scheduling, I handle our accounts receivable, insurance, and other matters that keep everything running smoothly. Like the rest of our team, I want you to have stress-free appointments!
I've been with Dr. Russell and this incredible team since 2007. It's rewarding to be part of a small office that feels like family and that closeness extends to our patients. I appreciate getting to know those we serve, and seeing their smiles through the years.
Outside the office, I spend much of my time with my husband Nick and our dogs, Lucy and Hazel. I enjoy most any outdoor activity, especially paddleboarding, along with working on our old house and cooking.
---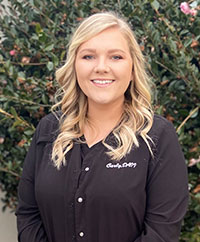 Carly
Dental Assistant II
Hello and welcome! My name is Carly and I'm one of Dr. Russell's dental assistants. I'll bring you into the treatment area, check that you're comfortable in the chair, and walk you through what will happen. During the treatment, as I assist the doctor I will also talk with you about what we're doing. When finished, I'll provide post-op instructions and answer any questions you have. I want you to always feel safe and informed, so you're happy when you leave!
I started in the dental field in 2015 and joined our practice in 2017. As a small practice, we've become like family over the years: Dr. Russell, my coworkers, and our amazing patients.
Being with family is what I love best. My husband Austin, daughter Piper, and our family dog, Bella enjoy going to the beach and spending time together.
---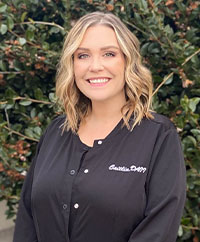 Caitlin
Dental Assistant II
Hello! I'm Caitlin and we'll meet when I bring you into the clinic for your appointment with Dr. Russell. In addition to ensuring you're comfortable in the treatment chair, I'll explain what we'll be doing and answer your questions. Remaining chairside, I will assist the doctor while checking on how you're feeling and telling you how things are going. My goal, like that of Dr. Russell and our team, is to have you smiling when you're finished with an appointment!
My career in the dental field started in 2017 and in 2019 I was invited to join this incredible office. As a small, close-knit team, we're able to really support and help one another so we're able to provide patients with great care. Seeing patients confident in their smile is the best part of my day.
Most of my non-work hours are spent with my husband Ryan and our two-year old, Kennedy. I love being with friends and family, and taking trips in our camper, especially to the beach.
---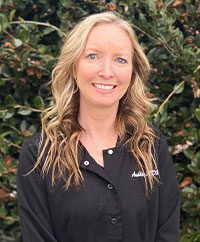 Ashley
Registered Dental Hygienist
Welcome! I'm Ashley and, as a hygienist, I will help you achieve and keep a healthy smile. In addition to thorough and gentle cleanings, I provide personalized education so you can keep your mouth healthy between appointments. Seeing a clean and happy smile at a recall visit makes me smile!
I hold a Bachelor of Science in Human Nutrition and Dietetics, as well as an Associate's degree in Dental Hygiene. I started my career here in 2011 and love being part of a close-knit team that's become my second family. I feel the same way about our wonderful patients.
Family is my priority when I'm not at work. My husband Skye and I have two children, Addison and Colt, as well as our pets, Abby and Mango. We love going to the beach and spending time with family and friends.
---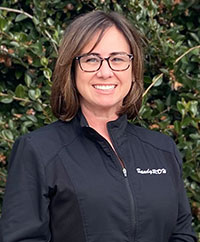 Sandy
Registered Dental Hygienist
Hi and welcome! I'm Sandy and I provide dental cleanings and maintenance care. I'll make sure you're comfortable in the chair, will be thorough and gentle, and ensure you leave with a clean and bright smile. My goal is to help you understand the importance of oral health and how to keep a healthy smile that you will enjoy for life!
I started in the dental field in 2011 and joined this practice in 2014. Everyone here is talented, caring, and genuinely supports one another so we can provide the best care for our patients. In turn, our patients appreciate all we do and we get to build relationships with them over the years.
If I'm not cleaning teeth and providing patient education, I'm usually enjoying time with my daughter, Hollie. I love going to the beach, too, and being with family and friends.